We provide cloud integration for any business that wants to leverage cloud technology, but doesn't have a dedicated team or the funds to hire those with the skills required.
No fuss, no technical staff, we do it all for you. Simple.

Fully Integrated Solutions
Want to connect your office to the cloud? Speak to us and we will design a solution for you!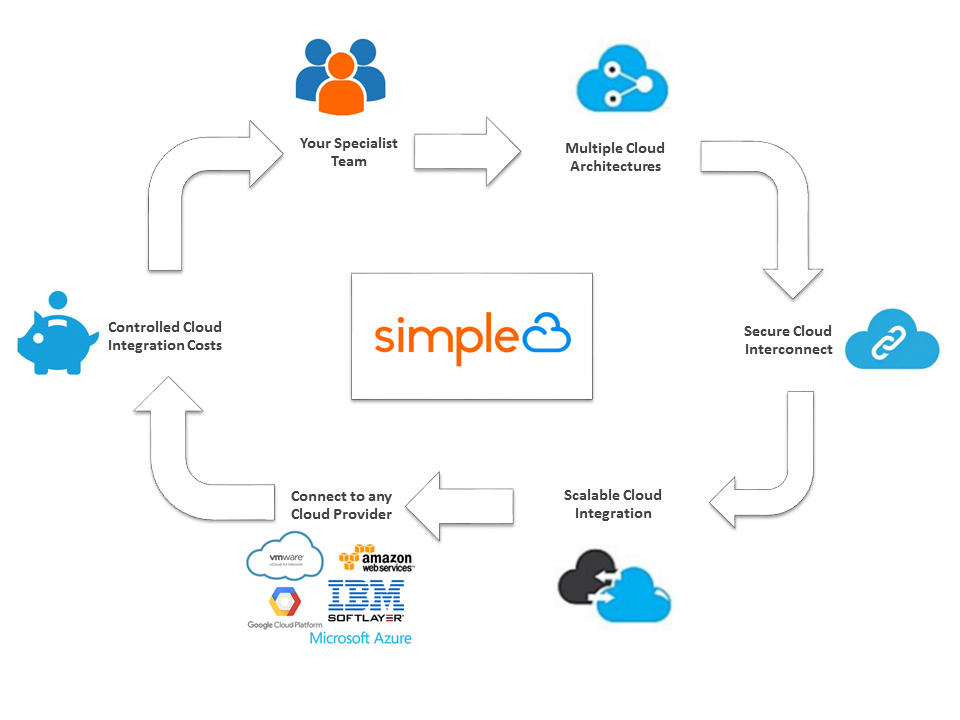 Your Specialist Team
Design, Implement, Support.
No need to hire expensive specialists. We can provide everything you need to connect your business to the cloud.
Service Scalability
We support your growth.
We have the network to scale as your business does. One point of contact for your cloud integration needs.
Multiple Architectures
Not restricted to one solution.
There are many ways to integrate with the cloud. We can provide you with an option that meets your requirements and budget.
Secure Solutions
Dedicated and Secure.
We provide you with your own private service. Your cloud will feel like it's part of your network.
Any Connect
Integrate with any cloud service.
We work with all the big names, but speak to us about any other integration requirement you may have.
Controlled Costs
No Hidden Costs.
Honest and Upfront Pricing = Peace of Mind.
No! We integrate with most large cloud companies, but if we come across one we don't currently, we'll happily work with you to integrate the service of your choosing.
This depends on the solution, however for the most part we aim to provide everything you need. This includes any on-premises equipment or fixed services required (such as private circuits, Internet or VPNs) to connect your business to our systems and the cloud.
Don't worry! Once everything is up and running, we won't just leave you to fend for yourself! We'll be your specialist team in the cloud, supporting the infrastructure and any issues that arise. This way you can focus on running your business.
If you have any questions about our services, or just want to get in touch, please complete the form below